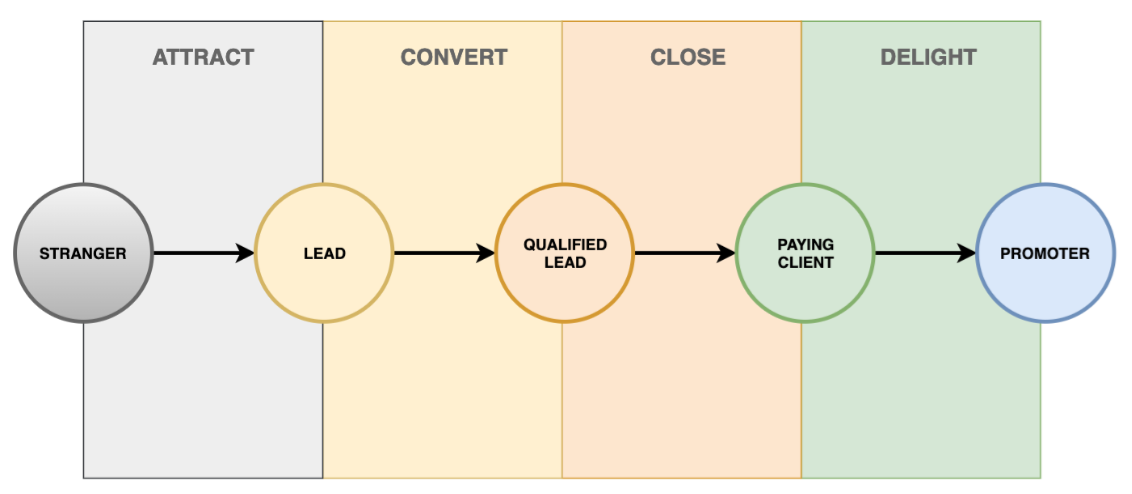 Online fish and seafood CRM allows to work manage wholesale clients during full lifecycle and includes 5 major stages
Stranger
Lead
Qualified lead
Paying client
Promoter
Depending on the stage of the lead our fish and seafood focused CRM provides the whole set of tools to work correctly with fish and seafood wholesale buyers to significantly reduce the operational costs of high-qualified sales managers of supplier and unify the sales process
Stranger -> Attract
This is the very first touch with potential client. We don't know anything about him yet. It can be an anonymous guest on the web site or a reader of supplier promotion / article / merchant things. The main Call-to-action (CTA) for the stranger is to tell him how to get in touch with us and get his Email or a phone number. The output is the lead with the ways to communicate
Currently, the main sources of the leads in the fish and seafood industry are offline resources: meetings, images on the trucks, advertisement. Sometimes - online catalogues and LinkedIn. All the data is put to XLS file for further process, put to Dropbox and shared across the sales department team
How YORSO can help here?
We already have existing database of fish and seafood wholesale companies inside the CRM with clients worldwide including more than 10,000 companies. The majority of the incoming clients today come from the organic traffic as a result of SEO optimisation. It means this is a "passive" channel of receiving new clients and every supplier page can grab contacts and bring new clients which costs for the supplier nothing
The low frequency requests promotion of specific products brings "hot" clients who ready to order right away. For instance, when someone searches for "Buy Yellowfin Tuna wholesale online" we appear on the page.
Co-join press-releases, articles, Facebook, Twitter, LinkedIn media allows to cover more audience from the fish and seafood industry being a place where fisheries, processors, distributors and HoReCa meet all together
Each fish and seafood supplier has a special landing page which not just brings new potential buyers but also provides a full analytics and statistics to supplier. That is why we believe it is important to have connected together fish and seafood CRM, Online B2B wholesale fish and seafood Marketplace and promotion tools in one place
As a result of this stage we finally have contacts of wholesale fish and seafood buyers and our industry focused CRM provides ability to work with the lead further.